Functional and decorative pottery by Lance Timco
Lance Timco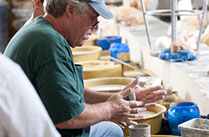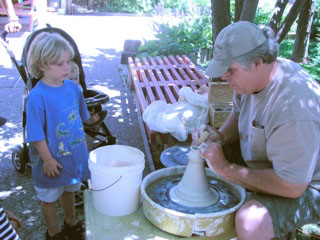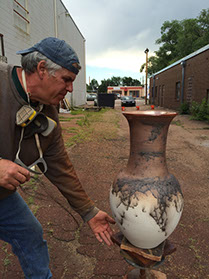 MFA University of Dallas 1991
MA University of Dallas 1989
BFA Stephen F. Austin State University 1981
Pikes Peak State College (Formerly Pikes Peak Community College:
Lance became a faculty member by appointment at Pikes Peak State College and is the ceramics chair teaching all levels of ceramics.
Artist Statement:
"I was first attracted to ceramics because of the joy I saw in the making. I delight in the knowledge gained from the past through the discovery of ceramic vessels and sherds. I enjoy problem solving and seeking answers to complex questions of which the creation of ceramic objects lends itself. My work is primarily wheel thrown and it ranges from functional to decorative. My firing methods include Raku, faux-Raku, saggar, multi-fired and both oxidation and reduction fired stoneware. My objects are from my heart, created with my hands and in passing to the viewer I hope that my sensibilities are transmitted from their hands to their heart."
Lance has been working with clay for over 40 years. He begins his creative process with the rhythmic wedging of clay and contemplates the series of forms to come. His work is based in traditional forms and through a blend of concentration and relaxation he finds harmony in the forming, decorating and the finishing of each piece. He may draw or carve a line, place material on a piece to create a line. He dips, pours and sprays glazes and/or chemicals to create surfaces that provoke a tactile and visual intimacy, inviting contemplation.
Timco Art Pottery LLC Colorado Springs, CO 719-302-0702 email me
Lance Timco and Timco Art Pottery LLC © 2001-2023